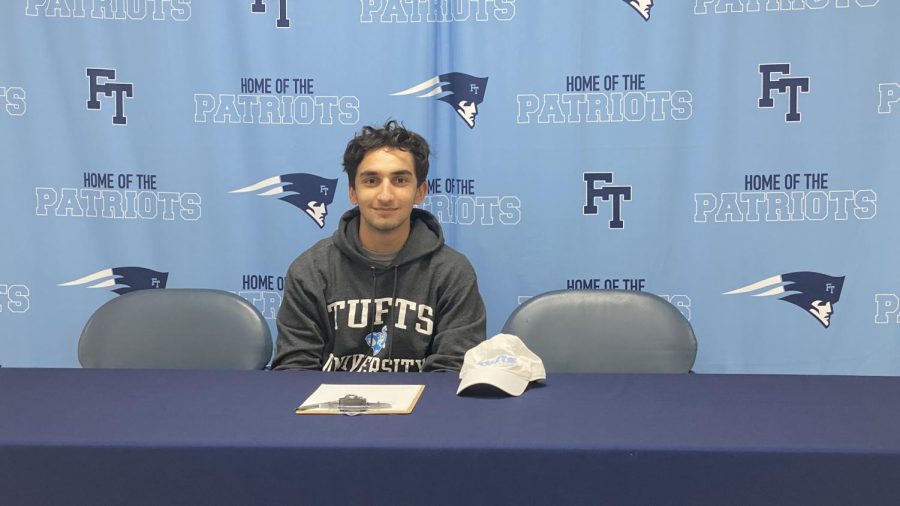 Krish Dhayal
FTHS college commit Krish Dhayal spoke on his signing with prestigious Tufts University. 
________________________________________________________________________________
Hi Krish! Thanks for sitting down to have a few words.
– No problem, thanks for having me!
So, to kick things off, what have you been signed to college for?
– I row, so I'll be rowing for Tufts. It's not a high school sport, so I'm guessing that not many people will be that familiar with it. 
Gotcha, very cool! Is there any specific position or role that you have; is it individual or team rowing?
– It's team rowing, so there isn't typically a position, but typically I am in either bow seat or bow pair (depending on if it is a two or a four). 
So, if my boat knowledge is correct, the bow is towards the front of the boat, right?
– Typically yes, but in rowing, you are facing backward, so the bow of the boat would actually be towards the back. 
Got it. That makes sense considering that it is probably more efficient to row backward as opposed to forwards. 
– Yep, that's the idea. 
Moving on. If you had to choose, what would be your favorite rowing memory? Typically I ask what your favorite memory while playing for Township is, but since rowing isn't a high school sport, this will obviously be related to out-of-school experience. 
– I would say that my favorite memory was last year, (or last summer) racing one of the four's in nationals. My boat placed fourth in one of the events, (the straight four) and it kinda stinks losing by only a few seconds off of third…
But I'm sure it was still a major accomplishment, especially in such a big moment as nationals. 
– Yes, exactly. Just being there and racing all the other competitors who are just as fast as you, if not faster, is just a lot to take in. 
I'm sure it was great and will definitely be a major moment that you reflect on in your career. Next, what got you into the sport in the first place? What is your inspiration?
– I was introduced by a family friend. One of my dad's friends had a kid who also did the sport (and was quite proficient at it) and got me interested in it. Initially, my parents were thinking, "you could use this to get into a good school," but over time it became something less about college and more about something I genuinely enjoyed. 
Very cool! I'm sure you started out thinking skeptically about rowing, if you didn't know whether or not you actually enjoyed the sport in the first place. 
– Yes, exactly. For example, I used to be a huge basketball fan, but I never found much success outside of rec. I played the sport because I enjoyed it, not because I thought it was my path to good schools. But, over time, I realized that rowing is something I genuinely enjoy and also can help me get into my dream schools. 
I mean it's worked, getting into Tufts (one of the top schools by acceptance rate in the country) is no joke. Anyways, what is your favorite aspect of the sport? Is it the reward, being with the team, etc?
– I think it's partially being out on the water on a perfect day. When there aren't any difficulties, and you can spend the day being out on the water on a great day, it's just the best feeling. And, I also think that it's the comradery that you can build when being on a team and working with your teammates for so long. In events, you generally are not racing by yourself, but in team events, so it's crucial that you are working together with your team. 
I'm sure in a sport as meticulous and precise as rowing, the teamwork has to be on point.
– Yeah, absolutely. And besides, with small teams and teammates who you know and grow close to over the years, you form great relationships and bonds. 
Being part of a team is the best, especially over the course of multiple years. Moving on now, how do you feel to be representing FTHS in college athletics?
– It's a weird feeling, because I am not physically representing Township through high school rowing, but I am the only kid on my team (I have to drive 40 minutes to Mercer County for practice) from Township. It is nice being one of the only kids from Township, where you don't hear about rowing too often. 
Exactly. I'll be honest, when I first went to interview you, I was not expecting you to say rowing, mainly because quite frankly, there isn't enough attention drawn to you guys and what you do. So moving on into that discussion, how do you train and prepare?
– We train mainly on ergs (ergometers), which are basically like simulated rowing machines. The machine simulates rowing on moving water (sitting on a moving seat) and simulates the difficulties you might experience while rowing. It actually feels harder to erg as opposed to rowing, which is great training and helps you prepare for real-life scenarios.
I'm sure the training process is very meticulous and precise, which leads me to the next question: how do you help be a positive and encouraging role model for younger athletes in the sport?
– Well, the training is part of it. As a senior, my team is basically all younger kids who I have to be a positive role model for. Whether that means making sure everyone has done their workout, focusing on healthy diets, or making sure the boats are all set to go and checked; these little factors all add up to good performances. Instilling discipline and teaching others to show respect to not only teammates, themselves, and all the equipment needed to succeed is the main way I help be an encouraging role model. 
I'm sure the leadership role on the team is one with a lot of responsibility, but obviously, a responsibility that you handle extremely well. Last question: what are your goals for college athletics? 
– Honestly, I haven't thought about it that much, because I'm still processing that I'm going to a college like Tufts. It's always been my dream place. Aside from racing on the water and making sure I'm practicing and training, it's just partaking in the NESCAC conference, which is one of the best conferences for rowing in the state. Just racing in that division and doing well overall is something I am looking forward to.
Alright, that's really all for now! Thanks again so much, and congrats again on the signing. 
– No problem, thank you!