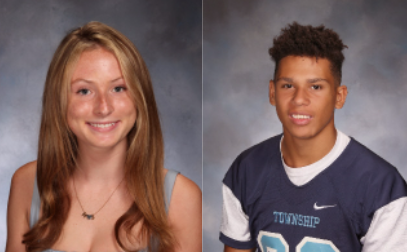 March Athletes of the Month
May 6, 2022
Hailey Dean
Following her being named as FTHS March Athlete of the Month, the Patriot Press sat down with lacrosse star Hailey Dean!
________________________________________________________________________________
I first just want to congratulate you on being chosen as Athlete of the Month!
– Thank you!
My first question for you is: Why do you feel that you were picked as an Athlete of the Month?
– That's a really great question! While I'm not a captain of the lacrosse team, I'd say that I do have leadership skills, so maybe that's why. I also feel like my demeanor on the field encourages others to play well, too.
What sparked your interest in playing lacrosse? 
– Actually, my friends inspired me to play! I was going to run track my freshman year, and then my two best friends decided to play lacrosse. So, they kind of got me to do it, and that's how I started! 
Do your two best friends still play lacrosse with you now?
– One of them is, but the other is not. 
I hope that your friend who doesn't play anymore is doing okay!
– Yes, she is!
Do you see your involvement in playing lacrosse being a part of your future?
– Yes, I definitely want to play either club or intramural lacrosse in college. 
Have you thought about any colleges that you're going to or have committed to? 
– It's between Quinnipiac or Lehigh! 
Would you recommend playing lacrosse to any incoming freshmen, or even people who are thinking about pursuing the sport? 
– Definitely! I think our program is really good at teaching. I know Freehold Township doesn't have as huge of a lacrosse program as it does for sports like soccer, but the coaches and players are definitely willing to work with you to get better. When I first came in to play lacrosse, I didn't know anything since I had literally never played before! So, the lacrosse program is a supportive environment. 
That's awesome! What's your favorite part about playing lacrosse?
– Probably the relationships that I've made during my time playing lacrosse! A lot of the girls I'm friends with now, I had no idea who they were when I first started playing freshman year. So, at the freshman level I got to bond with a bunch of the seniors I'm playing with now, and then at the varsity level I'm bonding with a bunch of underclassmen that I would have never met otherwise. 
Is there any group of people or teachers that contributed to your interest in playing lacrosse? If so, tell us who!
– Probably Mr. Sneddon! He was a big influence when I first started playing. I would also definitely say Coach Patrick! I had been to one of her clinics before because one of my other friends had got me interested in playing when I was in 3rd grade. It didn't develop into anything at the time, since it was just a clinic, but I knew she was the coach here and I really liked her clinic. 
If you could create and be in charge of any new club or sport at FTHS, what would it be?
– Maybe intramural lacrosse! I know preseason is only just a few weeks once a week before the season starts, so maybe if we had something going a little bit before then throughout the season it would be a little bit better.
Have you gained any beneficial skills from being involved in lacrosse?
– Totally! I used to be really, really shy, and I think lacrosse has totally made me more outgoing and more of a leader.  
Do you have any passions or hobbies outside of lacrosse that you enjoy? Share your favorite one!
– I really like shopping!
Me too!
– Specifically for earrings. I'm wearing my smiley face ones today; there are two matching pairs. 
They're so cute!
– My favorite ones are the little mushrooms I have, and it's a little joke we have on the lacrosse team too. 
What's your favorite place to shop for jewelry?
– Probably Urban, to be honest! They have the cutest earrings. 
Cool! Now I'm just going to ask you a fun question: Would you rather travel to the past or the future?
– Definitely the future because I can't wait to see what the next four years are like and what my life is going to look like when I finally get out of college. I'm still undecided as to what I want to do in college right now; I know I want to do something in the medical field or healthcare-related, but I don't know what I'm actually going to go into. So, I'm dying to see what my life will actually be like in the future!

Is there anyone or anything that inspired you to possibly work in the medical field when you're older?
– My aunt actually runs the health clinic at the University of Tampa, so she definitely did!

That's awesome! Again, congratulations on being chosen! I wish you the best of luck in your future endeavors.
– Thank you!
_________________________________________________________________________________
Here are some of Hailey's accomplishments from March and her impact on the lacrosse team's success:
Scored 8 goals in the team's season opener
Team's faceoff/draw specialist – entrusted to gain or regain possession after each goal scored in the game
Senior Leader
Team's leading scorer with 8 goals
Leave a Comment
Ryder Anagnos
Following him being named FTHS March Athlete of the Month, the Patriot Press sat down with track and field star Ryder Anagnos!
_________________________________________________________________________________________________________
First of all, congrats!
– Thank you!
How does it feel to be the athlete of the month?
– It feels great. I put a lot of hard work in.
Is this the first time you've won?
– I think so, yeah.
What track events do you compete in?
– I compete in the triple jump and the long jump.
How did you get into those events?
– Freshman year my coach just put me in. I happened to be really good. I said no at first, but I changed my mind, did it, and won.
Are you glad that you changed your mind?
– Very glad, yes.
How did your college career materialize?
– All the hours that I put in behind the scenes leading up to that moment. Learning how to talk to coaches and communicate with them was the hard part. Getting to know the coaches and showing them how I am was a really big part of that.
Do you have a tip regarding how best to reach out to coaches?
– Always be yourself.
Have you won any titles recently?
– I just won the triple jump in the winter season. I won the Shore Conference title in 2019, my first year.
What's the best part about Township's track team?
– How unified we are. Everybody knows each other, everyone gives each other tips, and we're all a team. Nobody is secluded or singled out.
Did you play any other sports previously?
– I did play football. I happened to get injured so I stopped that and focused on track.
Do you have any superstitions or pre-meet rituals?
– Praying. I always pray to God.
How do you train in the offseason? What is your secret to success?
– A lot of weight-room stuff. A lot of legs. Always in the weight-room. It leads up to track.
What's the most challenging part of jumping? It's not something a lot of people are able to do.
– Definitely getting steps right and the phases of the triple jump. They take a lot on your knees and a lot on your shins. It hurts sometimes but you have to push through it.
What is the best thing about jumping or track in general?
– Everybody works as a team to win. Everybody has to do their part to win the meet.
If you could live anywhere in the world, where would it be and why?
– Definitely Greece. It's very beautiful there and I love the people.
What is your favorite school subject and why?
– English. I'm very interested in poetry.
Do you have a professional inspiration?
– Definitely Paul George, the NBA player. I know he plays a different sport than I do but he's been a huge inspiration.
__________________________________________________________________________________________________________
Here are some of Ryder's accomplishments from March and a summary of his impact on the track team:
Qualified for Meet of Champions in the Triple Jump
Won the Triple Jump at the Rebel Field Meet prior to Meet of Champions
His jump of 42' 8.75'' ranked as the 8th best jump in NJ at the time
Ryder's accomplishments have qualified him for the Meet of Champions. He has also recently committed to continuing his track & field career at Stockton University.
Leave a Comment