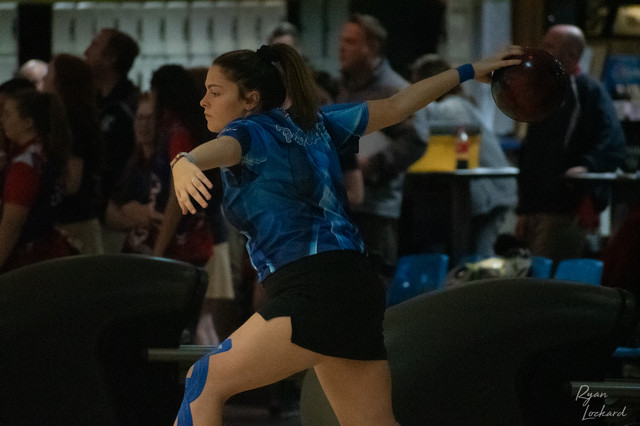 December Athlete of the Month (Female): Sarah Orensky
Name: Sarah Orensky
Sport: Bowling
What grade are you in?
I am a Senior
How long have you been playing?
10+ years (since I was 2)
What position do you play?
Anchor
How did you start playing, what age were you when you started?
My sister started from an elementary school league and then joined a Saturday morning league so I joined with her I was 2 she was 7
Have you played any other positions?
Freshman year I switched between leadoff to Anchor
Do you want to play in college, do you know what school you're attending?
Yes, I actually committed to play at Long Island University (LIU) in Brooklyn at the NCAA Division 1 level
Do you play any other sports?
I used to play soccer then quit when I got to high school
Do you play outside of school?
Yes, I do Leagues outside of school and compete in national tournaments
Which do you like playing better in or outside of school?
I think high school is a lot different because it is more of a team sport, outside is more individual. I think it is cool to be able to have more of a team atmosphere like there is in high school bowling
What was the hardest thing to learn about the sport?
Definitely how to be able to keep a positive mindset and outlook
What is your favorite thing about the sport?
Meeting new people from all over and competing against some of the best out there
What was your greatest achievement in the sport?
I would probably say leading the FTHS girls to the very first State title in school history or probably just winning big tournaments
What was the greatest moment you had during the sport?
Either being on tv at nationals when my regional team was in the championships or leading the FTHS girls to a state championship
How do you stay in shape?
I go to the gym a lot and also practice about 4 times a week and then tournaments on the weekends
Is it hard for you to balance school and the sport, how do you balance them out?
Sometimes it can be a struggle but I find time to do my homework and also practice or go to matches and do what I need to do to succeed in both school and Bowling
Do you want to go pro?
Probably not, maybe just do regionals in my free time when I am older
Do you have any before game rituals or superstitions?
Just listening to music and zoning pretty much everything else out so that I am focused
How does the team look for the playoffs?
Pretty good we have a bit of work to do, but I feel we will be ready
---
ACCOMPLISHMENTS (STATISTICAL OR OTHERWISE) FROM THE MONTH:
Highest Average at the Jackson Baker Holiday Tournament
Led team to the team championship at The Baker Holiday Tournament
3rd Highest Average in Shore Conference through December
Committed to LIU-Brooklyn to continue her academic and bowling careers
ATHLETE'S IMPACT ON THE TEAM'S OVERALL SUCCESS THIS MONTH:
"As the senior anchor Sarah has been the most consistent and dominant bowler on our team. She has been a positive motivator for her teammates (both boys and girls). Aside from being one of the best bowlers in the Shore and the State, Sarah has been an exemplary teammate and leader." – Coach Mehl