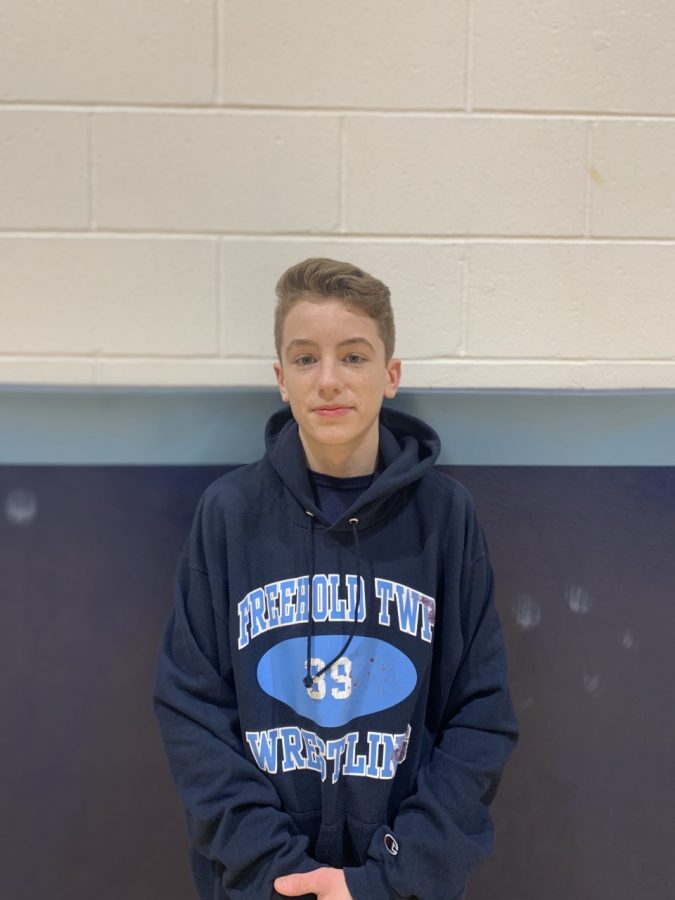 December Athlete of the Month (Male): Liam Flanigan
Name: Liam Flanigan
Sport: Wrestling
What grade are you in?
Freshmen
How long have you been playing?
4 years 
How did you start playing, what age were you when you started?
I was 12 and started because I watched WWE and always wanted to wrestle.
Do you want to play in college, do you know what school you're attending?
I do want to play in college, I have a few schools in mind but I don't have a set decision.
Do you play any other sports?
I am starting lacrosse this year.
Do you play outside of school?
Yes
Which do you like playing better, in or outside of school?
Inside
What was the hardest thing to learn about the sport?
Positioning/stance 
What is your favorite thing about the sport?
Getting to beat people up
What was your greatest achievement in the sport?
Last weekend I won the most outstanding wrestler.
What was the greatest moment you had during the sport?
Winning a varsity tournament as a freshman and making the varsity team as a freshman
How do you stay in shape?
I go on a lot of different diets and work out a lot 
Is it hard for you to balance school and the sport, how do you balance them out?
It's not that hard; certain days I don't go to practice after school if I have a lot of homework
Do you have any before game rituals or superstitions?
I walk around with headphones on as I get ready
Season stats so far:
5 and 1
---
ACCOMPLISHMENTS (STATISTICAL OR OTHERWISE) FROM THE MONTH:
Won his weight class at the East Brunswick Invitational
Named "Outstanding Wrestler" at the East Brunswick Invitational
Won the 120 lb. weight class at the Freehold Township JV Tournament
5-1 Varsity record (undefeated on JV)
ATHLETE'S IMPACT ON THE TEAM'S OVERALL SUCCESS THIS MONTH:
Liam's first place finish at the East Brunswick Invitational helped propel the Patriots to a top-5 team finish at the tournament.