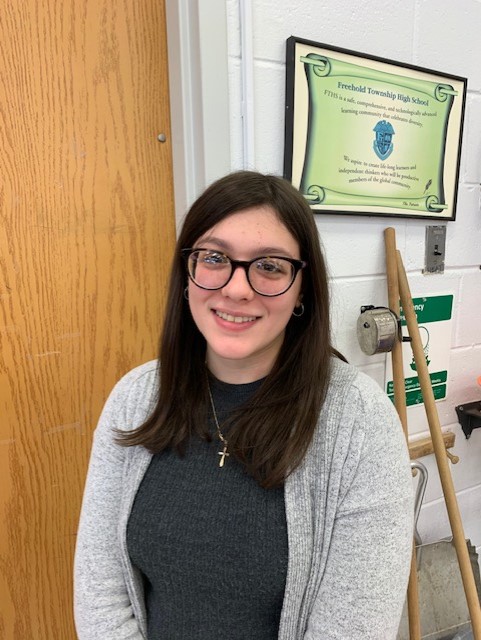 December Club Participant of the Month (Female): Julianna Davi
Name: Julianna Davi
Club: FFA Chapter
Nominating Advisors: Mr. Ducey and Mrs. Wojtaszek
What does your club do?
We encourage people in Animal Botanical to participate in agricultural events and create a friendly environment for them.
What happens during club meetings?
We discuss new ideas and solve issues going on in chapters. We also talk about committees and upcoming events.
How can people get involved in your club?
You have to be in Animal Botanical and then you can join in all activities that we have.
What are your club's goals/upcoming events?
Our goals are to keep everyone involved in the chapter. Our upcoming events are FFA week, which is George Washington's birthday week, where we celebrate national FFA
---
Reason for the Recognition:
– Chaired the December Chapter Meeting helping her team organize karaoke sign-ups, a gingerbread house building competition and a white elephant grab bag.
– Served as recording secretary at the FTHS A&B Science Advisory Board meeting.
– Highest scoring member of FTHS's FFA at the Fruit and Vegetable Career Development
From the Advisors: "Julianna has been responsible for helping her team run a Greenhand Conference and Welcome Picnic-both designed to increase student engagement and participation by the Freshman class. She also participated in the A&B Science Open House, where she helped introduce the program to potential members of the Class of 2024. Julianna has also been very engaged while balancing swim team commitments and her roles in Student Government and NHS." – Mr. Ducey and Mrs. Wojtaszek