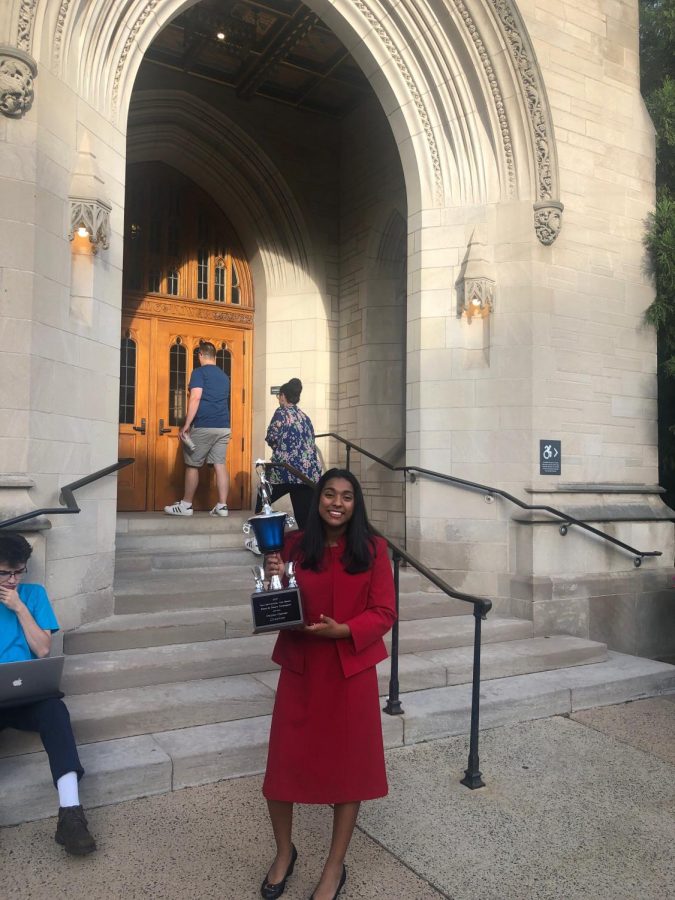 Oct. Outstanding Student Participant of the Month (Female): Asha Prabhat, Forensics Master
What grade are you in?
I am a senior.
How long have you been participating in your club?
I've been participating in speech and debate since freshman year, so that would be 4 years.
 What role do you play in your club?
I am the president of the club.
Do you plan on participating in an activity similar to Speech and Debate in college?
Yes, I do prepare to continue this club.
Do you play any other sports?
I actually dont, unfortunately because speech and debate is extremely intensive, and we have tournaments almost every Saturday. I have also been a board member for about 2 years now, so it definitely takes up a lot of time. I do love it tho!
Do you participate in Speech outside of school?
I do perform speech outside of school at the competitions that we attend.
What was the hardest thing to learn about Speech and Debate?
One thing I learned my freshman year was hat forensics won't get you what you deserve, or even what you want, but at times it will get you what you need. I would say that that is one lesson that I've learned which has just helped me throughout my life;  this lesson has been very beneficial to me, just to know that although things are not always fair, they will pay off in the long run.
What is your favorite thing about the Speech and Debate?
I would definitely say that my team is my favorite thing about the sport, they are like my family.
What was your greatest achievement in the Speech and Debate?
Two months ago, I was the national champion at Yale University, which was very good for me.
Is it hard for you to balance school and Speech and Debate?
I have been good with it, since it is the only club that I participate in. I am also in global studies and am taking all AP courses, so it has been difficult but I have become very good with time management.
---
Nominating Advisor: Mrs. Burstein and Mrs. Rowohlt
Reason for the Recognition:
Won the National Championship in Original Oratory at the Yale University National Competition in September.
Earned All American Award from National Speech & Debate Association.
Won 2 categories at the Phillipsburg Tournament.
Asha is the President of the Speech & Debate Team.
From the Advisors: "Asha is ALWAYS going above and beyond her basic requirements; she is an amazing leader. She constantly helps others, takes initiative and dedicates extra time while achieving at a high level in terms of accolades, fundraising and performance."