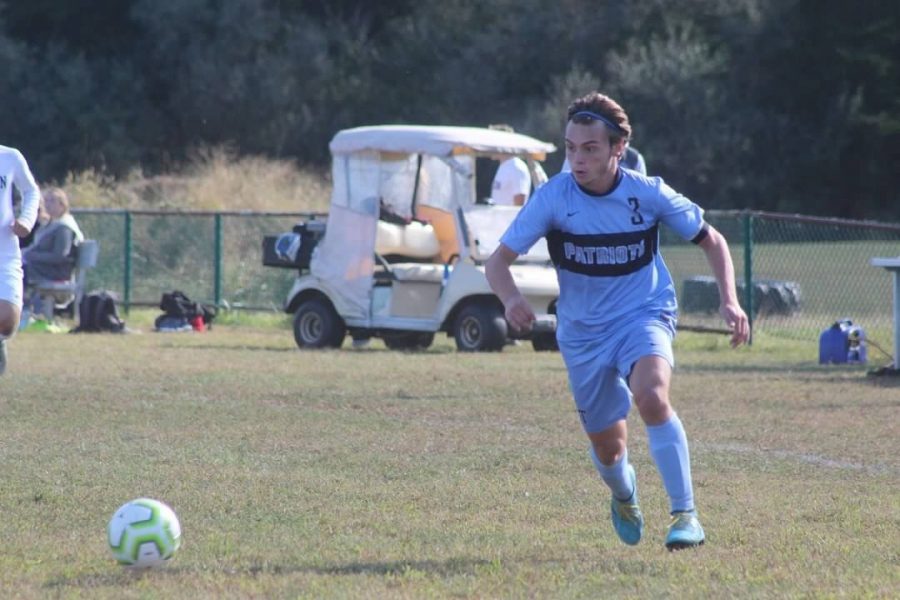 October AoTM (Male): Zach Orrico — Soccer Master
What grade are you in?
11
How long have you been playing?
Since freshman year, so 3 years
What position do you play?
Forward
How did you start playing, what age were you when you started?
I started playing when I was 4 when rec soccer was offered to me at that age
Have you played any other positions?
I have primarily played outside midfield my first two years at Township, and this year I was changed to play striker
Do you want to play in college, do you know what school you're attending?
I would like to play in college, but I do not know what school.
Do you play any other sports?
I play basketball and run track
Do you play outside of school?
Yes, I play for a club soccer team
Which do you like playing better in or outside of school?
In school, without a doubt
What was the hardest thing to learn about the sport?
The hardest thing was probably learning off ball movement and where and how to make runs
What is your favorite thing about the sport?
The thrill of winning games and playing with all my best friends
What was your greatest achievement in the sport?
Winning the SCT (Schore Conference Tournament) championship this past year
What was the greatest moment you had during the sport?
Scoring the goal to tie the SCT finals with 5 minutes left; it was a big pressure reliever.
How do you stay in shape?
Playing multiple sports all year round
Is it hard for you to balance school and the sport, how do you balance them out?
I try to make time for everything and like give a time and day I want to do and finish school work; however, it is pretty difficult.
Do you want to go pro?
Of course that is everyone's dream, but it is unlikely for that to happen.
Do you have any before game rituals or superstitions?
Not really. If we go on a winning streak, I just make sure everything is done the same.
How did the team perform in the playoffs?
We won the SCT and lost in the first round of States
Season stats:
16 goals, 7 assists
ACCOMPLISHMENTS (STATISTICAL OR OTHERWISE) FROM THE MONTH:
Led the team to the Shore Conference Tournament Championship with 2 goals in regulation and a PK in the Shootout.
A-North Player of the Week, SCT Championship Player of the Game.
1st Team All Division and 1st Team All County
Helped team to the A-North Division Championship.
ATHLETE'S IMPACT ON THE TEAM'S OVERALL SUCCESS THIS MONTH:
Team captain; leading scorer.
"Zach is a main cog in the wheel of a championship team. His motor, determination and overall ability are unquestioned. His willingness to sacrifice everything for his team is beyond commendable. He also just happens to be a wonderful human being and the best leader I could ever hope to have in this program." – Coach Mehl