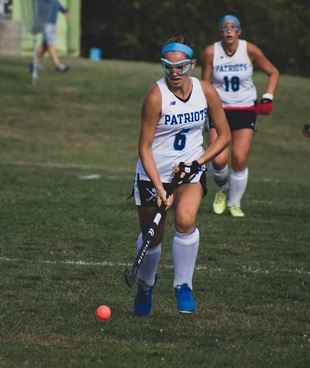 Erica Latz
October AoTM (Female): Catherine Papa — Field Hockey Hero
What grade are you in?
Junior
How long have you been playing?
Seven years
What position do you play?
Midfield
How did you start playing, what age were you when you started?
I did a camp because I wanted to play in middle school (10 years old)
Have you played any other positions?
Yes– forward
Do you want to play in college, do you know what school you're attending?
I do want to play in college but I don't know where
Do you play any other sports?
Yes– softball
Do you play outside of school?
Yes, for Jersey Intensity Field Hockey Club
Which do you like playing better in or outside of school?
In school—team spirit!
What was the hardest thing to learn about the sport?
Skillwise, ball handling, but overall, game sense
What is your favorite thing about the sport?
Team spiriting and building relationships while playing a sport I love
What was your greatest achievement in the sport?
Qualifying for Nationals with my club team and placing 8th overall
What was the greatest moment you had during the sport?
Scoring the winning goal against Mid. South… a huge competition
How do you stay in shape?
I play year round with my club team and do strength and conditioning training at RYPT
Is it hard for you to balance school and the sport, how do you balance them out?
I balance them through staying organized and on task and doing my work in advance to stay ahead; yes, it's hard to balance but worth it.
Do you want to go pro?
I think the farthest I would go is playing at the NCAA level!
Do you have any before game rituals or superstitions?
I usually listen to the same song before games and always take my necklace off last.
How did the team perform in the playoffs?
We made it to the 2nd round of Short Conference and 2nd round of States, but we had a lot of great team wins this season.
Season stats:
I think 14 goals and 4 assists
ACCOMPLISHMENTS (STATISTICAL OR OTHERWISE) FROM THE MONTH:
8 goals and 1 assist in the month including the game-tying and game winning goals against Middletown South to clinch the team's Shore Conference Tournament berth.
Scored in four consecutive games to lead team into Shore Conference Tournament.
Scored in both of the team's Shore Conference Tournament games.
ATHLETE'S IMPACT ON THE TEAM'S OVERALL SUCCESS THIS MONTH:
Leading scorer.
"Catherine is the nucleus of the team. She creates scoring opportunities for others and handles the ball down the field. On corners, she is always our first option and makes effective decisions. There is an obvious difference with her on the field. Her ability raises the ability of others. Overall, she was the decisive factor in our wins." – Coach Latz