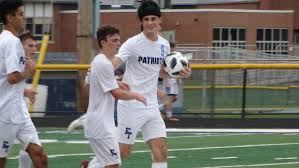 Bennett Messinger (Soccer)
How long have you been playing soccer?
Since I was about 7 years old
What position do you play?
I play Defense.
How did you start playing soccer?
When I was 7 I started in a rec league and kept going from there.
Have you played any other positions?
No, not really, I have stuck with defence pretty much my whole life.
Do you want to play in college and/or, do you know what school you're attending?
No, I don't know what school, but I do want to keep playing.
Do you play any other sports?
No, I have never.
Do you play outside of school?
Yes, I do.
Do you like playing in school or outside of school better?
To be honest, probably outside of school.
What was the hardest thing to learn about the sport?
The hardest thing is definitely running, I do not like running.
What is your favorite thing about the sport?
I would say scoring goals is my favorite thing.
What was your greatest achievement in the sport?
Scoring a goal.
What was the greatest moment you have ever had playing soccer?
Scoring a goal, probably the one in Boro.
How do you stay in shape?
I have to run to stay in shape.
Is it hard for you to balance school and the sport?
Yeah it is pretty hard but I kind of just do it.
Do you have any before game superstitions or rituals?
No
How was the season?
We did pretty good, but the season is over now.