The Frozen/Tarzan Connection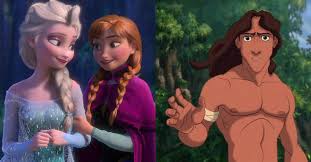 Hang on for a minute...we're trying to find some more stories you might like.
While Disney is known for hiding Easter Eggs in each of their films, there are also fan made theories that active viewers pray to be true. While some are more unrealistic than others, it turns out there may be truth in at least one of them.
Frozen was a movie that rose to fame almost overnight. The heartwarming tale of two sisters who forge a bond stronger than any relation with a prince truly inspired people of all ages. This movie, however, did have one scene that took moviegoers' breath away, and for one of the most upsetting reasons: a shipwreck.
The shipwreck depicted in the beginning of the movie was the same boat that Elsa and Anna's parents boarded just moments before. The breathtaking sequence of their ship underwater led viewers all over the world to assume the worst fate had claimed the parents, however, this may not be true.
There have been many theories about what happened upon that ship and whether the parents of the two princesses are still alive. One theory suggests that the parents were on the way to Rapunzel's wedding when the crash occurred and others say that the shipwreck seen is the same as the one shown in The Little Mermaid. Needless to say, the people watching Frozen demanded answers.
Recently, director of the film, Chris Buck, revealed the truth about the parents in an interview with MTV and the parents…
HAVE A SON NAMED TARZAN! Here is the full story:
When the parents boarded the ship, Elsa and Anna's mom was pregnant. They were out on the sea longer than viewers initially speculated, and the mom gave birth to a boy on the ship. They ended up shipwrecked in a strange and foreign jungle. While in the jungle, they build a treehouse where a leopard kills them, but their son stays alive and is raised by gorillas. The son is Tarzan, the jungle boy made famous by another Disney movie directed by Buck, and is technically the little brother to Elsa and Anna.
While this story may be a lot to absorb, Buck still encourages fans to create theories of their own. He states, ""Whatever people want to believe, go for it…That's the spirit of Disney." Whether a fan or not, there is one thing that is true…no one saw this coming!