DECA Sends 20 Members to State Tournament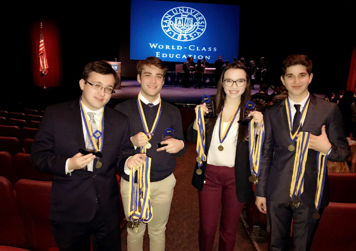 Hang on for a minute...we're trying to find some more stories you might like.
This past Friday the Freehold Township DECA team attended the regional tournament at Kean University. The DECA team works to teach its members how to be successful in a business-oriented world. Categories such as Human Resources and Food Marketing require competitors to put their best foot forward if they want to come out on top. In total, twenty of our team's members managed to qualify for the States Tournament. Below you can find a full list of the people who qualified, as well as any who managed to reach the top three in their category. Good luck to everyone attending the States Tournament. We'll be waiting to see who qualifies for Nationals.
Oscar Carrillo
Tierney Egan  (2nd Place)
Michael Galanaugh
Paul Griseta
Tyler Hayden
Marc Hecht
Raiyan Hossain
Maha Khan
Karim Lakhani
Anna Ma (2nd Place)
Hatim Malek
Darren Martinez
Sage O'Toole
Gustavo Sacramento
Mustafa Sheikh
Gabriella Smith
Jared Tajfel
Tori Varlack
Asher Vaysblat (3rd Place)
Aaron Wohl