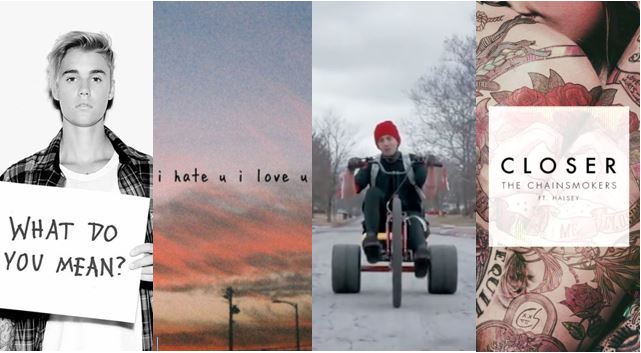 Deryn Rose
The year 2016 comes to an end in a little less than two weeks – thank goodness – which means that it's time to reminisce in the events of this year. While there were many, many bad ones, there were also some great ones in there too; one of which being the amazing songs played on radio stations all over the country. Here are some of the hottest and most-played songs from 2016.
Twenty One Pilots – "Stressed Out"
After many years of listening to them on YouTube, Twenty One Pilots fans were finally able to hear their idols on the radio. Starting out in early 2009, the band members – Tyler Joseph and Josh Dun – certainly have come a long way from making music in their basement. After their most popular song skyrocketed this year, "Stressed Out" off of their album Blurryface, mainstream listeners have not been able to get enough of them. With the message of being afraid to grow up and the fears of adulthood, this song is one teens and some adults can definitely relate to.
The Chainsmokers feat. Halsey – "Closer"
Moving onto one of the more catchy songs of 2016, we come to "Closer". It's a pretty much a proven fact that nobody could get into their car, turn on the radio, and not hear this song playing. While The Chainsmokers has had multiple hits, this was Halsey's first major radio appearance since her song "New Americana" played on the radio – but didn't quite match the popularity of this collaborative hit. Filled with repetitive rhyming, this song is almost impossible to get out of your head; which is probably the main reason why it became so big!
Justin Bieber – "Love Yourself" and "What Do You Mean?"
This year was a very important one for Justin Bieber, one that consisted of multiple songs of his played on the radio nearly all year long. Almost all of his biggest songs this year were collaborations with other artists, such as Skrillex, Diplo, DJ Snake, and Major Lazer. However, the two biggest songs he created this year are, by far, "Love Yourself" and "What Do You Mean?" Both of the music videos for these songs have over one billion views on YouTube, which is a rare feat to accomplish nowadays – but Justin did it! Take a listen to "What Do You Mean?" below.
Sia feat. Sean Paul – "Cheap Thrills"
Perhaps one of the catchiest songs from 2016, "Cheap Thrills" by Sia was one played on the radio seemingly 24/7. The collaborator on this song, Sean Paul, is known for his strong Jamaican accent that, in the past, had landed him multiple hit songs due to the fact that it is such a catchy voice. That, in part, is probably what makes this song as great as it is! Filled with basic beats and easy-to-follow lyrics – perhaps not Sean's part as much – it's so wonder this song stayed at the top of charts for a long time after replacing our next song's ten-week first place spot.
Drake feat. Wizkid and Kyla – "One Dance"
As said previously, Drake's song "One Dance" stayed number one on the Billboard Hot 100 chart for a solid ten weeks, a major accomplishment for any artist. Along with "Cheap Thrills" by Sia, this song was definitely one of the catchier songs of this year. Drake has a voice that is very simple, while still having the ability to make you repeat everything he says in your head for the next week. This song was a very laid-back, relaxing song that almost everyone probably dance along to in their car, which made it as popular as it was!
Gnash feat. Olivia O'Brien – "I Hate U, I Love U"
Lastly, we have "I Hate U, I Love U" by Gnash. Both the artist and the collaborator were both newcomers to the radio, but as soon as people heard their voices together, listeners couldn't get enough. Slightly on the sad side of pop songs, this hit has a basic vocal chorus – which is very catchy – followed by large rap verses. This ultimately resulted in a song that sounds as if both Gnash and Olivia O'Brien are singing back and forth to each other, leading to a beautiful song that struck a chord with many.