The World Within One Room: FTHS International Day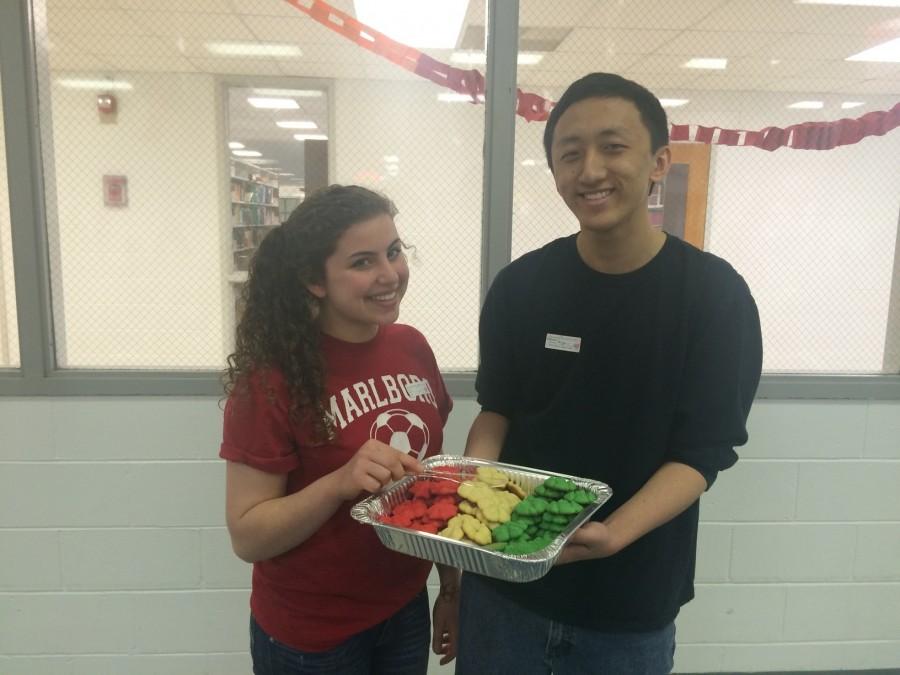 Our mundo; welt; maailman; wereld; svêt; monde; dunia; világ; lume; mondo; världen; world, is not only expressed through an extensive collection of intricately separated yet interconnected languages, but also through the unique dishes, the ethnic music, and the ancestral traditions that the open hands of each generation of every culture on our diverse earth harmoniously spread among one another.
At Freehold Township High School, the creation of harmony between the multitudes of backgrounds of every single student is celebrated during our annual International Day. It is a special day that not only emphasizes culture, but also individuality, by graciously allowing students to bring in dishes inspired by their family's heritage as well as assisting the language teachers of FTHS create the decorations which make the entire world come to life within one room.
Paper lanterns, flying flags, and vibrant flowers are only a handful of the handcrafted decorations that transformed FTHS's cafeteria from an ordinary eatery to the colorful home of every wonder of the world. When you enter, you may be delightedly greeted by a magnificent mural of the Eiffel Tower or the Taj Mahal, or entranced by the freshly painted petals of the Lotus of India, or the Chinese Hibiscus of Malaysia. As your international journey continues you may find yourself with an endless amount of time as you gaze upon the ticking hands of every clock around the world, or you just may find yourself stamping your feet along with one of Honduras' irresistible rhythms. Altogether, every feathery, shimmery, and vibrant cultural embellishment that is strung across the ceiling contributes to International Day's international design.
Sophomore Catriona Leary, a student in Señora Jimenez's Spanish class, enthusiastically exclaims, "I really loved International Day! The decorations set up were amazing especially because they were student made. It was so interesting seeing flags from different cultures, origami, and so many other projects. They let off a festive vibe that just made International Day even better!"
However, the cultural cuisines are what complete International Day. An absorption of all of the incredible aromas and flavors of the world within one room is a breath as well as a bite worth taking. From rich Italian red sauces to sweet Irish soda bread to spicy Mexican empanadas, your taste buds will be taken from continent to continent and deliciously introduced to each culture. This abundant feast is created through the students, whom are allowed to cook their chosen dish the night before and serve it to their peers, whom have language class during the same period, the following day. Recognizing students' differences by enabling them to express their ancestral culture through food- something that the whole world enjoys together, as one- is what makes FTHS International Day so important.
Sophomore Chris Garrick thoroughly enjoyed the diversity of dishes, but also explained that, "for a lot of Hispanic foods, like mofongo and tostones, you have to cook it on the spot and can't reheat it because it won't taste the same. I just wish students, who could be trusted, would be allowed to actually make the food in the school because if not, you are just limiting [some of the] cultural foods for that day."
Yet, ultimately, International Day at Freehold Township High School is not just a festive gathering for enjoying an abundance of cultural dishes or admiring an incredible assortment of magnificent student-made decor, it is essentially a realized appreciation of the fact that the things which usually make people stand out are what is finally bringing them together in a rare moment of pure harmony.