Robert Griswold: FTHS' Gold Medalist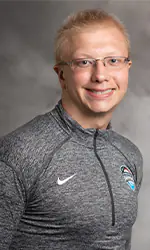 Imagine: all the eyes in the world are directed at you. An entire nation is screaming your name. Each movement you make enters the record books. Televisions, social media, and newspapers plaster you on the front page. For a gold-medal-winning athlete at the Olympic or Paralympic Games, these things are a reality. For a student at FTHS, however, these scenarios seem like nothing more than a pipe dream. One FTHS alum, though, made that dream a reality. 
Robert Griswold, a member of the FTHS class of 2015, is that alum. At the 2020 Paralympics in Tokyo, he won two gold medals. Griswold came out on top in both the 100-meter backstroke and 100-meter butterfly. Not only did he win the former, but he set a new world record in the process, posting an incredible time of 1 minute, 2.55 seconds. In addition to his two first-place finishes, Griswold came fourth in the 200-meter Individual Medley and fifth in the 400-meter freestyle. On top of all that, this was Griswold's second appearance at the Paralympics. He won the bronze in the 100-meter backstroke at Rio 2016.
FTHS and our local area shaped Griswold's journey. Griswold has cerebral palsy, and began swimming at the Ocean County YMCA at six years of age. He says that swimming allowed him to have the freedom to be himself and not feel different than other kids. By his senior year at FTHS, Griswold was captain and team MVP of the swim team. He also won The Bernard Goldwater Award for Health and Physical Education. After graduating, he attended Carson-Newman University in Tennessee on a swimming scholarship. 
So, the next time that biology assignment seems insurmountable or you feel as though you can't finish that extra mile in your cross country race, remember Griswold's story. Not only did he journey from FTHS to the world stage, but he did it while overcoming cerebral palsy. Robert Griswold is truly an inspiration to all. Everyone at FTHS congratulates him on his successes and wishes him all the best for Paris 2024!