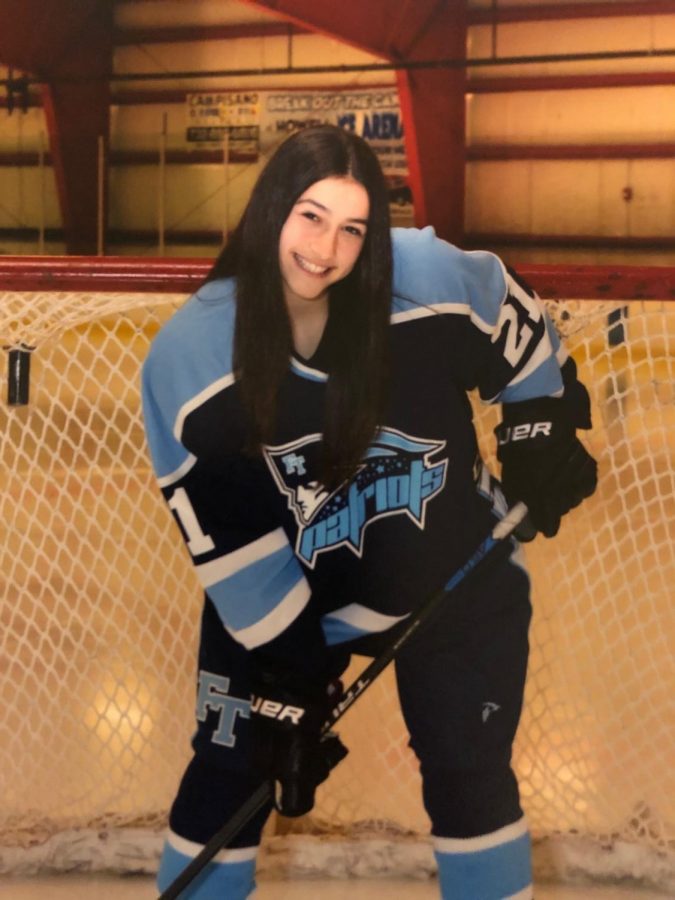 Ahead of her sophomore season, the Patriot Press interviewed hockey star Peyton Liebross!
What position do you play?
– I am a right-winger.
Why do you like that position and what is the most challenging aspect of playing that position?
– I like that position because it's very fast-paced and it keeps you on your toes. The most challenging aspect is probably staying in the correct position throughout the offensive and defensive zones.
What do you like best about hockey?
– What I like best is the hockey community as a whole, especially my teammates on the teams I have previously played for.
What is one of your most memorable moments playing hockey?
– My most memorable moment playing hockey was probably winning districts last year because my team and I had worked so hard for it all season.
Do you have a favorite memory or game while playing for Township?
– My favorite memory playing for Township was probably when the J.V. team won the shore conference championships last year because everyone was so happy and proud.
Who was your personal and professional inspiration to start playing hockey?
– I would have to say that my personal inspiration would be my brothers because, as I grew up, they played as well. My professional inspiration was probably Wayne Gretzky because not only did he play on my favorite team, but he also broke numerous records.
What do you like to do in the offseason?
– I like to spend time with my family and friends.
What is something interesting that people don't know about you?
– Something not everyone knows is that I have practically been playing hockey since I could walk.
Do you have any pre-game rituals or superstitions?
– Whenever I drink purple vitamin water and tape my stick before a game, I feel that I play better.
What are you looking forward to most in your sophomore season?
– I'm looking forward to spending time with my teammates and winning as many games as possible this season.
What is your favorite school subject and why?
– My favorite school subject is any science class because it's always interesting, whether it's a reaction or even just learning about how everything works.
What is your favorite type of music and who is your favorite musician?
– My favorite type of music is Pop music. My favorite musician is probably Dua Lipa or Tate McRae.
What is your favorite pregame snack or meal?
– My favorite pregame snack is probably a Nature Valley protein bar.
Do you have a favorite hobby outside of your sport?
– My favorite hobbies outside of my sport are listening to music, watching TV, and baking desserts.
If you could live anywhere in the world, where would it be and why?
-If I could live anywhere, I would move to Hawaii. The weather is beautiful and the all-around vibe of living there just seems perfect.
Best of luck to Peyton and the rest of Patriot hockey this season!