The 'Indogeration' of Major Biden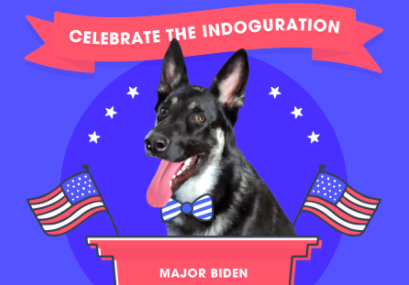 The Biden administration has been known for breaking barriers inside congress. For example, choosing Kamala Harris as the first woman and person of color to be the Vice President of the U.S. Harris being sworn in was a great win for all women and people of color. Another barrier that was broken has to do with our four-legged friends- this is the first time a shelter dog has been in the White House. 
On January 17th, three days before the Inauguration of U.S President Joe Biden and Vice President Kamala Harris, Major Biden was "indogerated."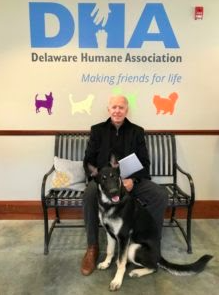 This "indogeration" was streamed live on YouTube, and was hosted by Pumpkin Pet Insurance and Delaware Humane Association (DHA), where Major Biden was adopted from. The live event was hosted by Jill Martin of NBC's "Today"; and included a performance from Josh Groban singing his rewrite of "(How Much Is) That Doggie in the Window" by Patti Page. Even though Major was busy getting ready for his move to the White House, it was a great experience being part of history in the making. 
All Paws In!
Whoever came to this live stream was required to pay $10, however, it was for a good cause. All the proceeds went to DHA, a nonprofit no-kill animal care and adoption center. DHA Executive Director says, "Our shelter is just across the Christina River from the famous Amtrak station where President-elect Biden boarded the train to Washington throughout his many years of public service," further connecting Mayor and Joe Biden. You can say these two 'friends for life' were simply meant to be. Furthermore, because of all the people that attended, the stream raised over $100,000! The participants also got to interact with each other by participating in contests! One of these contests was that participants could nominate their own animals for a position in Major's cabinet. There were 700 nominations for the position of Secretary of Rescue Dogs, and five extraordinary canines were finalists for this title. Sir Darius Brown, a teenage entrepreneur who attended the zoom, announced the winner while presenting all five dog finalists in bow ties that Brown designed. The elected Secretary of Rescue Dogs was Harper, a certified therapy dog, who overcame heartworm disease and worked endlessly visiting nursing homes. Overall, everyone had a great time participating while donating their own money for a worthy cause. The ceremony even included a video of the day that Major was adopted into the Biden family, a heartwarming experience. 
Anything is 'Pawsible'
Major Biden, a three-year-old German shepherd, has gone from a small shelter in Delaware to the most important house in America, 1600 Pennsylvania Avenue. This one lucky pup was adopted in 2018 and now lives with his four-legged friend Champ Biden. Just like President Joe Biden, Major came from humble beginnings and faced difficult times. For example, the reason why Major was brought because he came in contact with something toxic in their home, according to the Delaware Humane Association. 
In the end, this "indogeration" was to celebrate all rescued and shelter animals all over the country. With the return of animals in the White House, since former President Donald Trump did not own any, people are inspired by Biden's family and may even consider adopting a forever friend. During the live stream, there were many comments from the audience saying the slogan "adopt, not shop", advocating for people not to buy from breeders and instead consider rescuing. During the stream, Josh Groban expressed, "In this crazy, insane, divided world, we need animals to bring us together," and many can agree wholeheartedly. Major Biden represents that even a shelter dog from humble beginnings can even make it to the White House. 
As of now, anyone can watch the "indogeration" for free on YouTube!
Johnson, Lauren M. "Future First Dog Major Biden, Adopted from a Shelter, to Get Virtual 'Indoguration'." CNN, Cable News Network, 11 Jan. 2021, www.cnn.com/2021/01/10/us/major-biden-first-shelter-dog-indoguration/index.html. 
Benbrook, Julia. "Joe Biden's Dog Major Honored at 'Indoguration' Inaugural Celebration; Josh Groban Performs." USA Today, Gannett Satellite Information Network, 18 Jan. 2021, www.usatoday.com/story/entertainment/celebrities/2021/01/17/joe-biden-dog-major-honored-indoguration-josh-groban-performs/4200826001/. 
"Home: DHA: Delaware Humane Association: Friends For Life." Delaware Humane Association, 10 Nov. 2020, delawarehumane.org/. 
Gillette, Sam. "President Joe Biden's German Shepherds Featured in New Kid's Book: Champ and Major." Yahoo!, Yahoo!, 20 Jan. 2021, 3:26 PM, www.yahoo.com/entertainment/president-joe-bidens-german-shepherds-202635836.html.