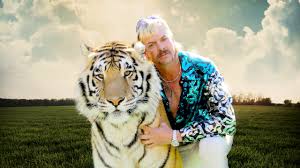 When the COVID-19 virus swept across the United States, with numbers reaching record highs, people were stuck inside, leaving them with television as their only source of comfort and peace of mind away from the crumbling world outside. With many people watching TV, new hit shows soon become the center of attention. So today we will be breaking down some of the most popular quarantine hits. 
Tiger King
Tiger King, which came out on March 20th, 2020, was one of the first shows that had major hype around it. This 8 episode documentary follows the story of Joe Exotic, one of the most prestigious tiger breeders in the nation and his battle between Carol Baskin, the CEO of Big Cat Rescue, who was also rumored to have killed her husband and fed him to the tigers (which almost every Tiger King fan talks about). No one can deny that Tiger King was everywhere when the nationwide lockdown started and was the foundation for the beginning of quarantine. There was even a remix to the song "Savage" by Megan Thee Stallion to this show. Many famous tiktokers danced to this remix including the lyrics "Carol Baskin, killed her husband whacked him.." So did Carol Baskin kill her husband? Only way to tell is to watch this hit show yourself!
Outer Banks
One of the most adventure driven and high adrenaline shows that has us all dreaming of a summer without COVID was Outer Banks. With just 10 episodes this show managed to intrigue all ages, but especially teens. This show tells the story of the pogues, their names being John B, JJ, Kiara, and Pope, who live in the Outer Banks. These teens are called Pogues due to them not living on the rich side of town, while the rich side of town is referred to as the Kooks. Though the Pogues don't have a lot of money, they still have the summer of their lives, until John B realizes that his dad, who went missing nine months ago, was looking for gold. To learn the truth of what happened to his father, John B and the Pogues set out to find the gold. With the mysteries, adventure and love in the air this show was number one trending on Netflix for nine days! It seemed that everyone was talking about it. With the new hairstyles and lifestyles sprouting from this show, it is definitely a must-watch!
All American
Another one of the early quarantine hits is All American. This emotional rollercoaster of a show tells the story of the protagonist Spencer James who was recruited to play football at Beverly Hills high school. Spencer is originally from Crenshaw, a poorer neighborhood compared to Beverly hills. This story doesn't simply just talk about football but it also focuses on real world issues like gang violence, racial injustice, etc. This beautiful story caught everyone's hearts and opened their eyes to parts or communities they have never thought about before. In order to fully open your eyes to the injustice in our country, this show is definitely one to binge! 
Umbrella Academy
There is no denying that Umbrella Academy was one of the most talked about shows towards the more recent part of quarantine. Do you think your family is dysfunctional? Well, Umbrella Academy revolves around an adopted family of 7, and each adopted sibling has some type of power (expect number 7 as though it seemed). However, soon the family joins back together after the death of their adoptive father and soon they realize that the death of their father wasn't just ordinary. We go through a mystery driven, high adrenaline show that keeps us at the edge of our seats. You think being quarantined is boring? Well, this show will definitely change that! Get ready for one crazy ride. 
Dead to Me
Looking for a comedy to brighten the mood but also touch upon serious circumstances in life as well? If yes, then this is the show for you! Dead to Me touches upon the two characters, Judy and Jen who soon become friends due to them meeting at a support group. Jen's husband died in a tragic hit and run accident. As a widow, she is determined to find out what happened. Through her mission, she drags along Judy. However, it becomes quite apparent that Judy does not want her new found best friend to figure out what happened to her husband. Why is that? Well you will have to watch it for yourself! This series, which explores grief and forgiveness, can have you laughing hysterically one minute and crying the next. Widely praised by the public and trending on Netflix, this show is a definite recommendation and hit during quarantine! Are you ready for this rollercoaster of emotions and shocking twists and turns? 
Through these hard times it is quite apparent that watching TV is a comfort for many people throughout the country, especially during a time filled with unknown circumstances and depressing situations. These shows listed above are some of the many hits during this quarantine that kept people feeling happy, entertained and positive during these dark times. No matter how hard times may get, remember to keep your head up, watch some TV and relax!