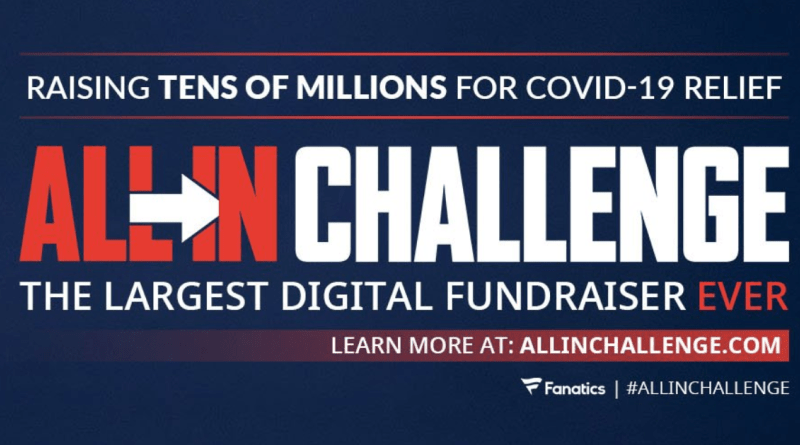 With our nation on lockdown from COVID-19, businesses across the country have shut their doors. Essential stores that have remained open, such as supermarkets, find themselves short on products and overrun with shoppers eagerly trying to stockpile as much quarantine food as they can. Furthermore, many people are without work as companies close in order to social distance. With shortage of food and record unemployment, it is now more difficult than ever for those in need to feed their families. In addition, many food-insecure children rely on school programs for their meals. Because of this, Michael Rubin, the founder of apparel company Fanatics and part-owner of the New Jersey Devils and Philadelphia 76ers, started what aims to be "the world's largest digital fundraiser." Rubin, aided by business people Gary Vaynerchuck and Alan Tisch, began the All In Challenge. In the challenge, celebrities including athletes, musicians, and actors donate valuable personal items or once-in-a-lifetime experiences that the public can bid on. All profits from the bids go to charities that work towards ending hunger including Meals on Wheels, No Kid Hungry, and America's Food Fund. 
The prizes up for auction appeal to a wide variety of interests. Currently, 458 individuals have gone "all in." As of the end of May, $52,313,386 has been raised. For those craving a Hollywood experience, auctions include having the winner and five friends visit the set of the reunion of the hit show "Friends," spending a day co-hosting "Ellen" alongside Ellen DeGeneres, and winning a speaking part in comedian Kevin Hart's next movie. Music fanatics may win a personal visit from Justin Bieber singing his hit "One Less Lonely Girl," or coveted backstage access at a Pearl Jam concert. Athletes that have posed challenges include National Football League legend and current Tampa Bay Buccaneers quarterback Tom Brady, 14 time Major League Baseball All-Star Alex Rodriguez, and 4 time National Basketball Association Most Valuable Player LeBron James. 
Don't be fooled by the star power of the challenges, the recipients are often "regular" people that actually do receive their reward. The winner of Kevin Hart's challenge to receive a part in his next film is an anesthesiologist from Cherry Hill, New Jersey named Henry Law. Law won the contest that was entered by over 37,000 others. Even though some great prizes have already been won, there is still time to win other amazing auctions. Remaining auctions include a Studio Session Hangout with musician Demi Lovato, a tour of Nike's headquarters in Oregon complete with pair of custom Nike sneakers and $1,000 worth of Nike merchandise, spending 5 nights in a penthouse at the luxurious W South Beach hotel, and playing a full round of golf with former world's number one Greg Norman.
In combating COVID-19, unity and cooperation will triumph. Working together is the only way for everyone to make it out alright. By using their platforms, these celebrities are being extremely helpful to the cause of unity. Their voices can bring people together to give donations and champion this cause. So, will you go all in?