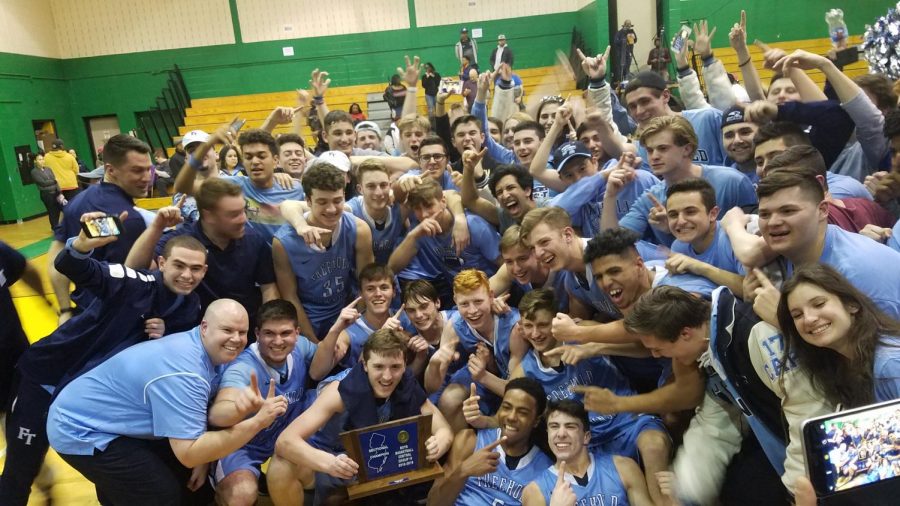 If there's one word that can be used to describe Monday night's boys varsity basketball game, it would be "intense."
There was certainly never a dull moment, both on the court and in the bleachers full of screaming fans. The game was a nail-biter from the very beginning, with Freehold Township and Trenton Central leaving a consistent, close gap between scores when they were not tied. The night was full of great work by players such as Greg Billups, Cristian Corcione, Zach Barilka, Seth Meisner, Matt Santangelo, Kevin Kilinskas, and Zach Orrico who all worked together extremely well to pull the team towards victory.
The first quarter saw Freehold Township leading for quite a while in the early minutes. It wasn't until there was about one minute remaining that Trenton Central started to gain more points to put themselves ahead at a score of 17-15. After their newly-acquired lead, Trenton Central continued to battle it out with Township, with the score going back and forth very closely between the two teams for roughly the entire second quarter. Before halftime, Township lead at 33-31, and that's when the crowd knew they were in for a very intense second half.
It was with one and a half minutes left in the third quarter that Trenton Central began to acquire a greater lead, leaving a seven-point gap in the score at 46-39. Trenton struggled with making baskets during the later portion of the third, leaving their teammates to scramble for the ball in hopes of getting it in. This seemed to do them well and pushed them even further ahead by the end of the third. However, Freehold Township's Patriots weren't ready to give up so easily.
Going into the final quarter, Township was determined to leave with nothing less than the championship title. Cristian Corcione scored the first points of the quarter, shooting a three-pointer that brought the Pats closer to bridging the gap in the score. After this Corcione ran with the ball all the way to the net, but was faced with a tough block from Trenton. Throwing it backwards towards the net, it bounced off briefly but was quickly caught by Seth Meisner, which put Freehold Township only one point away from Trenton Central at a score of 47-46. The quarter continued on, with an even tougher defense from Freehold Township and more points being gained by both sides.
With three minutes to go, Cristian Corcione was back at it again with another stellar three-pointer that thrust Township into a two-point lead of 53-55. Two more points were gained for FTHS through foul shots, and this is when things began to get very intense. Trenton Central was one basket away from tying up the game at 56-57 when suddenly a foul was called on Greg Billups, resulting in Trenton getting two foul shots. Luckily, the first foul shot bounced off the hoop, but the second one unfortunately went in. This left the score at an extremely close 56-57, all with just over one minute on the clock. Both teams played their absolute hardest, but the score did not budge from Township's one-point lead. With eight seconds left on the clock, Trenton Central gave it one last try to make a basket – they missed. One mere second remained for Trenton Central to make even one more basket, but that clearly wasn't going to happen. It was at that moment Freehold Township knew they had won the game.
At last, the buzzer sounded and every single Freehold Township fan in the gym went into an uproar of excitement. Many did not see a victory in the Pats' future, but this team did not come this far to let the championship title slip out of their hands so easily. Only six times in the twenty-four years that Brian Golub has been head coach of this team has Freehold Township reached the sectional finals of the tournament. Every time, though, the team has fallen just short of victory – except for Monday night. When asked on what they had to say about the game and season overall, players said this:
"I'm just so proud of all the guys on this team, from going 9-13 last year and all the work we put in over the summer that no one saw. We knew that we would be in this game and we were going to win. We really wanted to win for Coach Golub and Freehold Township. I'm just so happy and so proud." -Matt Santangelo
"We've been preparing for this moment ever since last season and for our dream to become a reality is an amazing feeling. There's no other group of kids I want to share this experience with and it's just the beginning for us." -Seth Meisner
"For [the fans] to support us throughout the whole year, and for us to finally give this back to them, is the best feeling. To be the first ones to do it, I'm speechless." -Greg Billups
After the players stormed the fan section full of Township's famous "Bleacher Creatures," all Township fans came down to the court to reminisce and take countless photos, of course. This was a moment to be remembered. But the victory celebration didn't stop there – it was onto Freehold Township High School for an informal "after party" where students who traveled via the fan bus and those who went to the school to watch the livestream came together to await the team's arrival back home.
The team arrived in style, with a full escort by the Freehold Township Fire Department, of course. Sirens, horns, and music blaring, the team finally arrived to meet the dedicated fans who supported them so greatly throughout their journey to get to this point. Even though it was freezing outside of the school, students still waited in the cold to celebrate with their team that deserved both a victory and a homecoming as great as this one was.
The boys aren't done yet, though. Go support them at the Group IV Semifinal game on Wednesday, March 6th at 5:30 pm at Egg Harbor High School against Cherokee. We're so proud of you, guys! Congratulations on the well-deserved win that you worked so hard for this year.