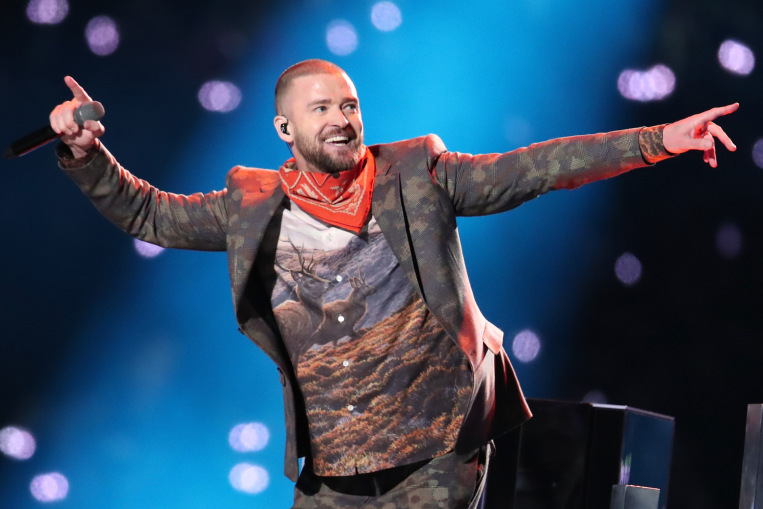 Getty
Pop music icon Justin Timberlake was the lucky celebrity chosen to perform at the 2018 Super Bowl Halftime Show, and while his performance was not as memorable as other halftime shows in the past, there's no doubt that Timberlake performed flawlessly.
The performance began underneath the stadium on a small stage, with Justin performing his newest song off of his album Man of the Woods, "Filthy." Said album was promoted all throughout the show, as Justin was seem wearing a suit that had rugged, wilderness elements such as camouflage and trees all over it, all tied together with an orange bandana – a signature color of the album.
Of course, Timberlake couldn't perform at the Super Bowl and not sing a few of his biggest hits, all of which were from his early years as a solo artist. "Rock Your Body," a song from an album that goes back sixteen years, was easily recognizable and definitely the perfect sing-along song for the viewers at home. The backup dancers who marched down the ramp with Justin to the field were surely working it, as was Timberlake.
Accompanied by The Tennessee Kids, Justin danced his way through the crowd to make it to the main stage to sing another one of his most famous songs, "SexyBack." There was a certain R&B twist to the song that gave it the extra something that any Super Bowl Halftime Show performance needs. It's probably safe to say as well that Justin was happy Janet Jackson wasn't there performing that song with him as she was at the 2004 Super Bowl, where an unfortunate mishap occurred.
Fast-forwarding through more of Justin's 2000's throwbacks such as "My Love" and "Cry Me a River" – both of which were accompanied by pretty awesome dance routines – Timberlake took to a smaller stage, with a single microphone. But this was no small performance, as he was accompanied by a full marching band, all dressed in suits and ties to sing, wouldn't you know it, "Suit & Tie."
The beat that the sounds of the marching band gave the song really elevated both the song and the performance, and there's no doubt that J.T's amazing microphone skills dazzled everyone in the audience. However, it was a shame to not see more songs off of his 2013 album The 20/20 Experience performed, since there were so many popular and catchy songs.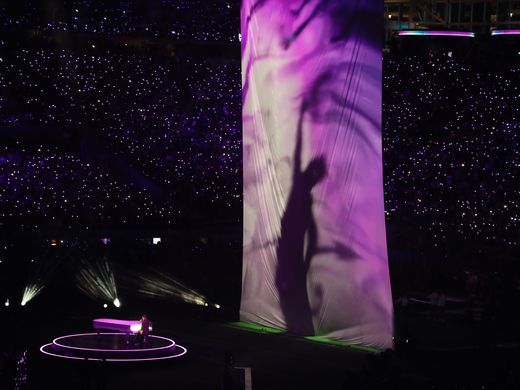 To honor the late, legendary singer Prince, Justin performed "I Would Die 4 U" as a tribute to Prince, all while turning the entire stadium and the surrounding area purple in honor of him. It was nice to see him recognized this year at the Super Bowl, because his death definitely shook many people around the country a few years ago. However, it certainly felt as though Prince was there that night.
Nearing the finale, Justin performed his song "Mirrors," which was a surefire hit in 2013 when it released. The stage was surrounded by people holding up pieces of mirrors while the hundreds of lights above reflected beautifully upon them, which created a dazzling light show as Timberlake performed.
Finally, to cap off the epic performance, Justin performed his most recently popular song from the movie Trolls, "Can't Stop the Feeling." Those who held the mirrors in the song prior quickly turned them around to reveal slabs of color as the stadium lit up, Justin prancing his way through the crowd both on the field and in the stands to finish his performance. A lucky fan even got to take a few selfies with the singer!
All in all, I would say that Justin Timberlake's performance at Super Bowl LII was definitely flawless and full of evident passion and hard work, however it really wasn't all that memorable. I certainly admire Justin Timberlake as he is a really amazing singer and puts on a good show, but compared to other halftime shows in the past, there really wasn't anything that stuck out about it to make it truly one for the books.
Who will perform next year? Only time will tell!